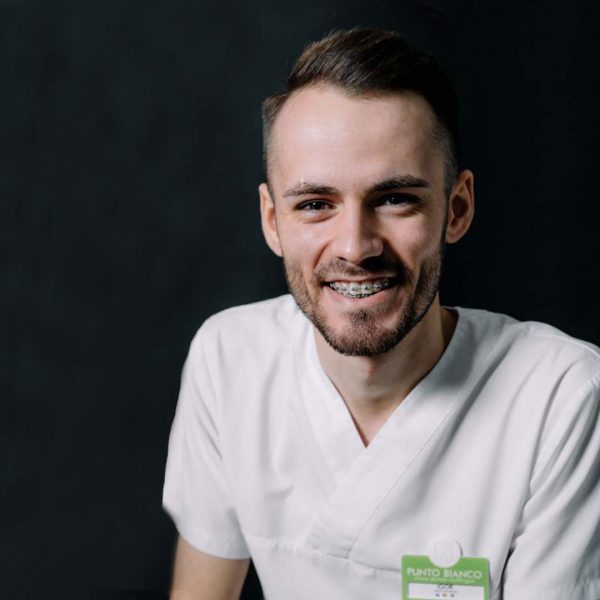 Did you know that the dentist is more and more a technology specialist? This is also the case of Igor Cornilov – dentist at the clinic Punto Bianco from Moldova, whose main goal is to get top results for each patient, in the shortest time to make their lives better and smile more beautiful. We can probably name Igor "
the dentist most in step with new technologies
", being specialized in dental treatments under a microscope, aesthetic dental treatments and prosthetic rehabilitation on natural teeth and dental implants.
Although in the clinic Punto Bianco in Chisinau are provided all dental services for adults and children, each doctor specializes in certain treatments and procedures. Such an approach allows us to guarantee the high quality of the treatments performed.
What treatments can help Dr. Igor Cornilov?
Emax dental veneers (Hollywood Smile)
Restoration of damaged (destroyed) teeth with the help of ceramic restorations (inlay, onlay, overlay)
Dental crowns and bridges (metal-ceramic, zirconium, pressed / milled ceramic)
Total rehabilitation on classic implants (All-on-4, All-on-6, All-on-8, Fast&Fixed)
Rehabilitation of patients with severe maxillary bone atrophy (on zygomatic, nasal and pterygoid implants)
Fingerprints using 3D intraoral scanner (useful for patients with vomiting reflex, infants and adults for braces / orthodontic appliances)
Digital diagnosis of occlusion and recording of individual movements of the mandible using the Axiograph and digital facial arch.
Virtual planning and preview of future teeth (DSD- Digital Smile Design, Scaner facial 3D)
Protective capes for bruxism / for home whitening / for athletes.
Most treatments require radiological investigations (radiographs and 3D tomography) for diagnosis (before treatment) and for quality control (after finishing the treatment). For the convenience of patients, they can be done inside the clinic at the indications and under the supervision of Dr. Igor.
And in cases where the patient needs complex multidisciplinary treatments (extractions, dental implants, treatment of caries or root canals, teeth whitening) – the specialists specialized in the respective treatments are attracted, who also work daily in our clinic.
"A dream is a goal"
But, until he became the most adept dentist of the latest technologies, Igor traveled a long way until he saw his dream come true. The desire to be a dentist appeared to Igor from an early age, since he was 11 years old. His sister's interest in this profession aroused him, who while studying at the University of Medicine in the specialty of Dentistry, he brought home various books, illustrations and interesting stories, which made Igor firmly know what he wanted to become. An important role in the professional development of Igor had fathers, who have always been there and supported him as he to see his dream fulfilled.
Experience and professional training
As for the student years,Igor reveals that he spent an extreme interest in the profession he chose, but he had no patience to begin to apply in practice all that he had assimilated from his disciples. Ambitious by nature, he did not let himself be beaten and so every day after school, in order to penetrate even more into the world of dentists, Igor worked as an assistant in dental clinics. Igor's experience as a dentist has carved her through the various internships performed both in Moldova and abroad. Igor remembers that during his summer vacation he went to Romania with his sister, to learn and apply in practice something new in the field of dentistry, but also to recreate.
At Punto Bianco, Igor Cornilov has been working since the first day of the clinic. He reveals that the Punto Bianco family has become his second home, and he comes to work with the greatest pleasure. We can rightly call Igor a specialist in modern dentistry, and this is evidenced by Igor's ability to work with new technologies. Fingerprinting with intraoral scanner, facial scanning, working under a microscope are just some of Igor's skills that lead to the border of a perfect work and ensure an extremely high standard in dentistry.
Dentist, but not only …
In addition to the deep universe of dentistry, Igor reveals that he has other passions that make him regain even more manpower., including mountain trips, given that Igor's hobbies include mountaineering and alpine skiing.