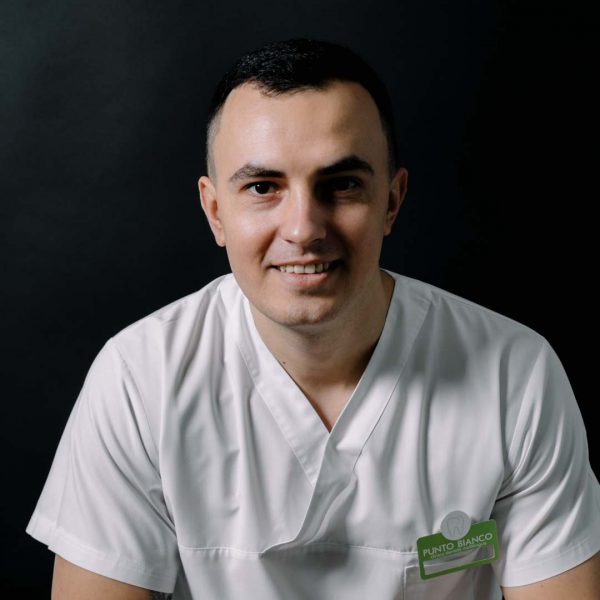 A successful doctor is one who, until he is a doctor,
first is man
. A doctor remains successful through the balance and kindness he puts into everything he does, what he says and what he is as a specialist, colleague and member of a community. Eugene – THE MAN, Eugen – THE DENTIST! Yes, this is about Eugen Zaicov –
orthopedic dentist (prosthetist)
at the clinic Punto Bianco. Eugen, like the other specialists in the clinic, it aims to bring as many smiles as possible on the faces of its patients and to give them back that burning desire to live life only with a smile on their face!
What treatments can help Dr. Eugen Zaicov?
Emax dental veneers (Hollywood Smile)
Restoration of damaged (destroyed) teeth with the help of ceramic restorations (inlay, onlay, overlay)
Dental crowns and bridges (metal-ceramic, zirconium, pressed / milled ceramic)
Total rehabilitation on classic implants (All-on-4, All-on-6, All-on-8, Fast&Fixed)
Rehabilitation of patients with severe maxillary bone atrophy (on zygomatic, nasal and pterygoid implants)
Fingerprints using 3D intraoral scanner (useful for patients with vomiting reflex, infants and adults for braces / orthodontic appliances)
Digital diagnosis of occlusion and recording of individual movements of the mandible using the Axiograph and digital facial arch.
Virtual planning and preview of future teeth (DSD- Digital Smile Design, Scaner facial 3D)
Protective capes for bruxism / for home whitening / for athletes.
The main task of the dentist – orthopedist is to restore the functionality of the mastication, also, selecting the shape, the color of the teeth that the patient will feel like his – natural, being devoid of the sensation of a foreign body in the mouth.
And in cases where the patient needs complex multidisciplinary treatments (extractions, dental implants, treatment of caries or root canals, teeth whitening) – the doctors specialized in the respective treatments come to the aid, who also work daily in our clinic.
Most treatments require radiological investigations (radiography and 3D tomography) for diagnosis (before treatment) and for quality control (after finishing the treatment). For patient convenience, they can be done inside the clinic at the indications and under supervision Dr. Eugen.
Experience and professional training
A firm and determined doctor, so we can describe him Eugen Zaicov! From here it is argued that, since high school, he knew for sure what profession he wants to pursue in the future. He really wanted to be able to help people, and look, he took small steps towards a big dream – realized. Eugen tells us that he chose dentistry during his years of activity, considering it a noble profession,with fascinating and immediate results, and for him, it is the only profession in which he does not feel the passage of time.
Student years, Eugen he spent them on the benches University of Medicine and Pharmacy "Nicolae Testemitanu" from Chisinau. For Eugen, the student was the most beautiful period of his life,because as Eugen tells us, that's when he learned to talk to people and to understand what their needs are.
Although he is a young doctor, he carries behind him experiences full of beautiful moments and valuable life lessons. He began to practice since college through various dental offices and private clinics. He also tells us that he had the honor of working side by side with a doctor specializing in oro-maxillo-facial surgery, this experience marking him the most, because it was the experience in whichhe learned to be a MAN and a DOCTOR.
Now, Eugen Zaicov he is a dentist – orthopedist in the Clinic Punto Bianco from Chisinau. He is one of the pillars of quality dental treatments and one of the doctors who sketches and shapes the smile on patients' faces. In addition to dental activity, Eugen is a continuous training, demonstrated by his participation in courses in dentistry organized both in the Republic of Moldova and abroad.
Dentist, but not only…
Although, most of his time, Eugen Zaicov, he spends it in the dental clinic Punto Bianco, with colleagues, along with technicians and assistants, and last but not least, with the patients, he spends his free time with the most precious people in his life – FAMILY, the driving force that gives him new powers of work. And let's not forget that dentists are also human, Eugen tells us that he also has a hobby – basketball, which he has been practicing since high school.
Eugene, he's the man – a doctor who teaches us, by his example, how to move forward and achieve our goals. He is the man – the doctor who proves to us that Dentistry is both a Vocation and a Profession, and in order to be happy you have to follow your dreams, and do what you like the most!