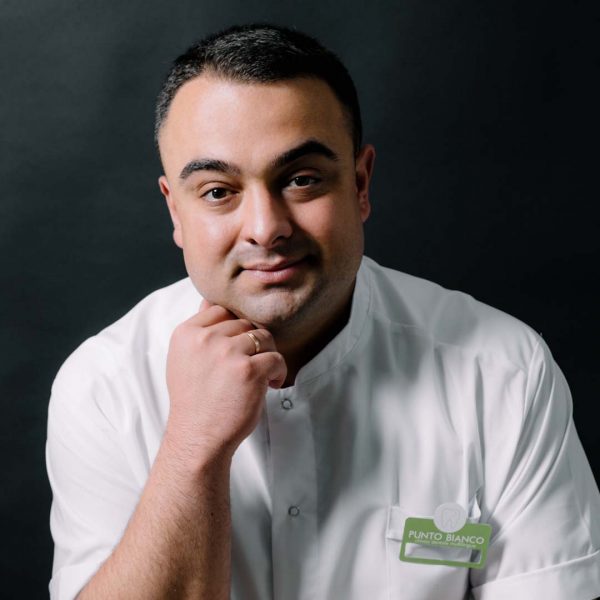 Being a surgeon is not an easy thing! In the practice of surgery required will, hard working, the desire to assimilate knowledge about everything related to disease and everything related to altruism. Our surgeon also demonstrates the virtues listed above – Eugen Sâli, surgeon – dentist at the clinic Punto Bianco in Chisinau, whose basic objective is to restore the functionality of the masticatory apparatus and to restore the smile on patients' faces through maneuvers, maneuvers and unique surgical techniques. And as we know that the foundations of professional development are laid since childhood, from Eugen's revelations, the desire to become a doctor, he was born with his first visits to his father at work. He always found it there
a pleasant atmosphere – friendly to work, see satisfied people coming in in pain and leaving with smiles.
What treatments can help Dr. Eugen ?
Dentistry, as part of modern medicine, is not limited to conservative therapy, in its arsenal there is surgical assistance provided by qualified specialists in this domain. Tooth extraction, elimination of the inflammatory focus, major surgeries – all this and much more are performed by the dental surgeon from our clinic in Moldova.
Treatments for minor dental surgery
Treatments for major dental surgery
Partial or total tooth extraction;
Complicated extraction of wisdom teeth (d.8);
Tooth extraction temporary or periodontal;
Insertion or removal conventional or zygomatic dental implants;
Incisions of dental abscesses;
Bone plasty;
Subgingival curettage;
Lifting the sinus membrane (Sinus Lifting);
Gingivectomy and Gingivoplasty;
Alveolar ridge expansion (Split Crest);
Apical resection with cystectomy;
Bone augmentation;

♥ If desired or necessary, all treatments and surgeries can be performed

UNDER GENERAL ANESTHESIA OR SEDATION
Most treatments require radiological investigations Diagnostic (before treatment) and quality control (after the end of treatment), and they are practically mandatory dental surgery.
For the convenience of patients, so much panoramic radiography and also 3D computed tomography can be made inside the clinic at the directions and under the supervision of Dr. Sali Eugen.
Experience and professional training
Patience, altruism and ambition they are qualities that can exist a priori or can be learned through learning. We can say with certainty that Eugen, through the ambition demonstrated towards the goal he set as a child, managed to see his dream come true. Thus, about the student years spent at"Nicolae Testemiteanu" State University of Medicine and Pharmacy in Moldova, Eugen tells us that they had a great time, being probably the most interesting years of his life, gaining new knowledge in the field of medicine, meeting wonderful colleagues and famous teachers. In addition to hard work in the teaching process, Eugen tells us that he also had a lot of beautiful, happy and funny moments, all coming together to form a wonderful student life, which will never be repeated. Also in his student years, Eugen reports that he received a life lesson from his teachers who guided him and his colleagues. to be human beings correctly addressing, from a medical point of view, the health problems of patients, this being an important one both for patients and for all future doctors.
How about professional experience of Eugen Sâli, he relates that it was an ascendant that strengthened the bases received during the university and taught him to appreciate correctly his work, and which he shares with us. Thus, after graduating from medical school, from 2014 to 2019, he pursued his postgraduate studies as a resident physician at IMSP IMU (Public Medical Sanitary Institution Institute of Emergency Medicine in Chisinau) in the Oro-Maxillo-Facial Surgery. In addition to this beautiful experience, from 2018 to 2019, Eugen worked as a dental surgeon at the District Dental Clinic in Straseni. From 2019 until now,Eugen is a member of the great Punto Bianco family, as a surgeon, and so far he has managed to treat patients from virtually every corner of the globe, bringing a smile to their faces. But Eugen Sâli's experience does not end here, from 2020, he works as Pediatric Oro-Maxillo-facial Surgeon within the IMSP Republican Clinical Hospital for Children "Emilian Coțaga" in Chisinau.
Dentist, but not only …
And as Eugen says, it's always time to learn something more, materializing these words through the seminars, national and international courses that Eugen attended. This proves that man learns while he lives – a good example for each of us! But in addition to that, a man is formed through the hobbies he has. Dr. Eugen tells us that his greatest passion is active tourism, thus loving to discover new cultures, new places and to develop new impressions. Speaking of which, travel is the key factor in the proper development of the human personality.
But, according to him there is no greater passion and pleasure than to spend his free time with his family – the vector of his success.