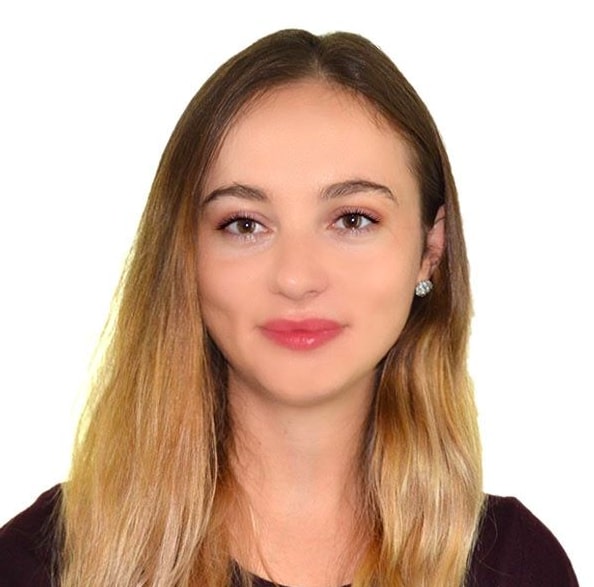 ,,The sweetest doctor " – probably, this is how we can name Anastasia Strungaru, dentist at the clinic Punto Bianco in Chisinau. His main goal is to bring back the smile on people's faces, treating with accuracy and delicacy, even the most acute pain. Thus, according to Anastasia, he is pleased to see, after a treatment, the expression of satisfaction of the patients.
Although all the dental services for adults and children are provided in the clinic Punto Bianco in Chisinau, each doctor specializes in certain treatments and procedures. Such an approach allows us to guarantee the high quality of the treatments performed.
What treatments can help Anastasia?
Professional teeth whitening with ZOOM lamp
Professional tooth cleaning (tartar removal / sanitizing)
Treatment of dental caries
Sealing cracks
Endodontic treatment – treatment of tooth roots (devitalization) – mandatory under magnification (Microscope and binoculars)
Restoration of affected teeth with cosmetic fillings and artistic restorations
Treatment of teeth in children
Most treatments require radiological investigations for diagnosis (before treatment) and for quality control (after finishing treatment). For the convenience of patients, they can be done inside the clinic at the indications and under the supervision of Dr. Anastasia.
And in cases where the patient needs complex multidisciplinary treatments (extractions, dental implants, dental crowns and bridges, prostheses, etc) – the specialists specialized in the respective treatments are attracted, who also work daily in our clinic.
Experience and professional training
It is proven that, in a world of men, women are more and more successful. This is also the case of Anastasia, who showed perseverance in seeing her dream of becoming a dentist come true. The desire to help people with toothache came to Anastasia for a simple reason – she felt this pain on her own. Although the profession of dentist requires substantial investment of time, Anastasia went a long way and formed the foundations by learning from the most experienced university professors at the State University of Medicine and Pharmacy "Nicolae Testemiteanu" in the Republic of Moldova.
The years of studying, although fleetingly spent, from one seminar to another, from one study block to another, from one colloquium to another, brought Anastasia not only interesting things, but also made her go with more ardor ahead. It is during the student years that you remain the most marked, and the most convinced to go forward, and a life lesson that Anastasia learned from her pedagogues, and that she transmits to us, is that to be successful, you must be permanently in a continuous school.
Thus, at the age of a few, Anastasia Strungaru has in her record many interesting experiences that made her progress professionally, experiences that she shared with us! In the first year of residency, from 2014 to 2018, Anastasia worked as a dentist in the private clinic "Medpriveservice", after which she followed a period of 6 months of internship in Bucharest, Romania. From 2019, until now Anastasia is part of the great Punto Bianco family, working as a dentist, where it brings back the smile on people's faces, giving them not only healthy teeth, but also a pleasant atmosphere in the dentist's office, which is essential for a patient to feel comfortable. Anastasia did not stop here, she participates and frequently attends courses both in the Republic of Moldova and in Europe and the CIS countries on the field of dentistry.
Dentist, but not only …
And not to forget that dentists are also human, Anastasia reveals that one of her hobbies is to study a foreign language, finding this quite challenging. In addition to these, Anastasia is also adept at enjoying free time with readings of the great classics, but also professional training readings. Anastasia also reveals that her secret for new jobs is very simple and very pleasant. Thus, in order to recharge with energy and new powers to move on, Anastasia recreates herself due to her travels.