High level of organization, High quality of services, Impeccable welcome
Really excellent, kind, careful, professional, everything and more. From first to last! From drivers to surgeons, from doctors to managers. I would go back another thousand times. I would recommend Moldova because it is beautiful, simple and welcoming. Really beautiful people and a comfortable clinic. Almost everyone speaks Italian. Well done, well done, well done!
The patient left another review on our clinic (see the translated review and screenshot below):
All fantastic, from the first thing to the last. Very kind staff, from drivers to surgeons and managers, they care about the customer a lot and help them in everything, fantastic! Truly, unique services and facility. I would recommend it to everyone, because I found a welcoming clinic and country, Moldova. Well done, well done, well done!!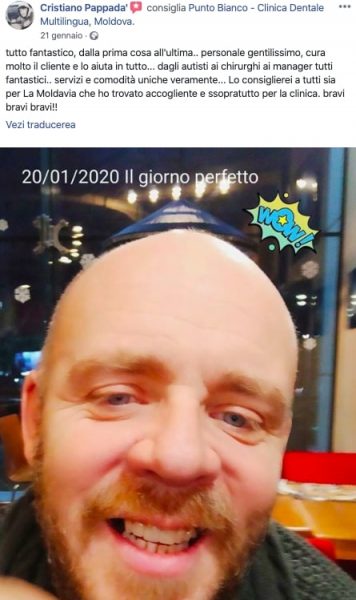 Want to talk with Cristiano P. and other patients?
Leave your phone number and we will give you the contact details of the patients who gave their consent.