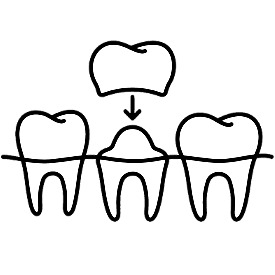 Dental Crowns & Bridges à Chisinau
Lire ci-dessous pour plus d'informations sur Dental Crowns & Bridges en Moldavie et familiarisez-vous avec toutes les options, forfaits et prix des Dental Crowns & Bridges dans notre clinique.
Nos experts sur Dental Crowns & Bridges
Dental crowns are used to replace missing teeth.
Both crowns and bridges can be used to restore one or several damaged teeth or to replace the missing ones.
Bridges can have as a support natural teeth or dental implants.
There are different types of dental crowns, which are distinguished by the materials from which they are made:
Porcelain fused to metal crowns (metall ceramic)
Zirconium crowns
All ceramic crowns
Emax
Implant supported bridges
Temporary crowns & bridges
etc.
Offre d'une durée limitée!
Dépêchez-vous! Contactez-nous aujourd'hui et obtenez une première consultation absolument gratuite!