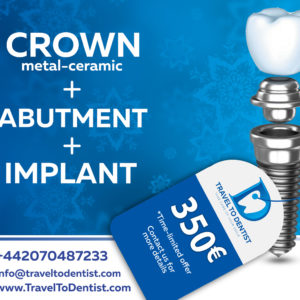 When winter gets harder, TravelToDentist reduces the prices.
This winter, offer yourself a new smile and take advantage of our offer on dental implants:
Israeli dental implant + abutment + crown for only 350 €!
The good news does not end here, though. We decided this time not to set limits and conditions for payment methods. As with any other treatment performed at our clinic in Moldova, each patient chooses to pay by cash, credit card or even wire transfer.
Also, we decided that all our patients could benefit from free accommodation in the center of Chisinau, regardless of whether dental implants are placed within the offer or at standard prices.
And to have no hesitation in accepting our offer, we inform you that also the Air Moldova airline sells flight tickets to Chisinau at discounted prices (starting from 49 €), until the end of February.
Fill in the following form and receive a totally free estimate (with the offer for dental implants applied), but don't think too much, the forecasts announced temperature increases throughout Moldova 🙂