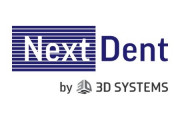 NextDent by 3D Systems
3D Systems, The Netherlands
The world is changing faster than ever. Fuelled by rapid technological advances. One of the most dynamic fields is 3D printing. NextDent by 3D Systems is leading in this exciting new 3D printing innovation, for dental technology and dental care industries.
NextDent offers unlimited possibilities for lab managers, dental technicians, dental prosthetic technicians and clinical prosthetists/orthotists. NextDent's mission is to support everyone, as their client, in transforming their practice from a low-tech, traditional workplace to a high-tech dental 3D printing work environment. They are focussing on custom-made solutions.
The combination of 3D Systems printing technology and NextDent's revolutionary materials will enable to lead innovation in digital dentistry. They will leverage the unique opportunity to integrate advanced materials and automated print workflows into transformative digital production solutions delivered to the dental practice and laboratory.
For a better precision of the works and their presentation in a short time, our clinic uses 3D equipment provided by Next Dent.