What do we mean by worn down teeth?
Dental abrasion is a slow, gradual and progressive wearing process of the tooth tissue. Through worn down teeth, usually patients blame: short, worn, without tip or shape, damaged, grinded, chipped teeth.They are often associated with stumps or roots, while the scientific term is "dental abrasion" or"abraded teeth".
Causes and classification: Why are teeth wearing away and what is the difference between the types of abrasion?
Tooth wear tends to become more prevalent with age, but lately, this problem occurs more and more often in younger people in different forms. We have identified 4 types and the causes that cause them are specific to each in part. Dental abrasion is a broad topic that we will explore in more detail in a separate post: The differences between attrition, erosion, abrasion and abfraction.
However, for a general idea we present an image illustrating different types of dental abrasion and a table with concise information about the causes of its occurrence.
Attrition
Erosion
Abrasion
Abfraction

– Bruxism

– The absence of the lateral teeth (masticatory) in the long term

– Prosthetic works performed incorrectly (overcontacts)

– Dysfunctions in occlusion

– Consumption of acidic foods or beverages (citrus, coca-cola)

– Incorrect and aggressive dental brushing

– Vicious habits

(biting the nails with the teeth or nicking the seeds with the teeth)

– Professional habits (wind instruments)

– Injuries and traumas during the mastication

– Incorrect tooth height (too tight contact point between antagonistic teeth)

– Overcontacts (when eating only on one side)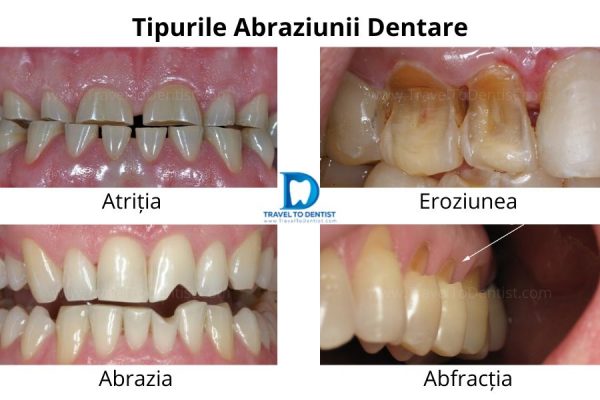 Solutions for worn down teeth. What prevention and recovery measures could be applied?
Unfortunately, dental abrasion is irreversible, but we can prevent it from evolving further, and the damaged or worn part can be restored.
Preventive measures
Often when your teeth are slightly damaged, changing habits, or minor adjustments in your behavior and skills may stop the abrasion process, and we urge you to:
Replace professional habits with less harmful ones for your teeth;

give up vicious habits like nail biting;

use the mouthgard at night but also during the day when the grinding occurs or better

consult your neurologist if the cause of bruxism is the irritability;

use the soft toothbrush and brush all the time from the gum along the tooth;

Replace acidic drinks with natural water or as much as possible

use straw when you consume it;

Rinse your mouth with water or consume chewing gum

after you eat acidic foods.
Restoration options
If your teeth are half damaged, already very short and sensitive with exposed dentin, fortunately modern dentistry comes with solutions for them too. You could restore the complete shape of your teeth through:
composite restorations (a resistant material, but over time it becomes old, changes its color, becomes more yellow). Find out more about

composite restorations

, accessing this page, where there is a detailed description;
ceramic restorations: inlay, onlay, overlay, veneers or dental crowns (all

ceramic restorations

keep the same look and color for decades).
If the reason of tooth abrasion are the edentulous spaces, they need to be replaced and restored with one of the fixed solutions: bridges or dental implants.
Consequences: What negative consequences may dental abrasion bring?
Teeth are wearing little by little and without realizing. The front teeth wear faster because they are thinner. Often, the majority of patients ask for an aesthetic restoration just for the frontal teeth, the 6-8 included in the smile, but this is not always possible.
Once the tooth grinding process starts, it quickly spreads to:
the entire dentition (not just the frontal ones);
joints and jaw muscles (they are looking for a comfortable position and are always in tension);
occlusion (distance between the two jaws decreases).
To add the part of the tooth that has eroded, it would be more correct to restore all the teeth, thus creating a uniform space over the entire dentition
How much does it cost to restore worn down teeth?
Whatever the cause that led to tooth abrasion, you will pay less at the beginning of tooth abrasion. If the problem is postponed, a total rehabilitation of the tooth will be needed, therefore the treatment costs will increase.
Although it is more expensive, our clinic encourages this "total rehabilitation" strategy to put all the teeth in contact and to restore the smooth functioning of the bite.
As mentioned above, there are 2 treatment options. The cheapest solution is composite restorations, and the most expensive will be ceramic restorations.
Premium solutions at fair prices
In Moldova, where dental tourism is practiced, the costs will obviously be at least 3 or 4 times lower, which would allow you to choose a complete rehabilitation with the most expensive solutions. So, in our clinic, composite restorations have a price between 60 euro and 120 euro per tooth, and the EMAX ceramic ones cost 225 euro per tooth.