Slide left and right to see the difference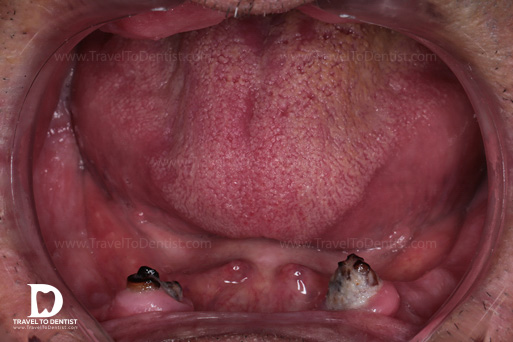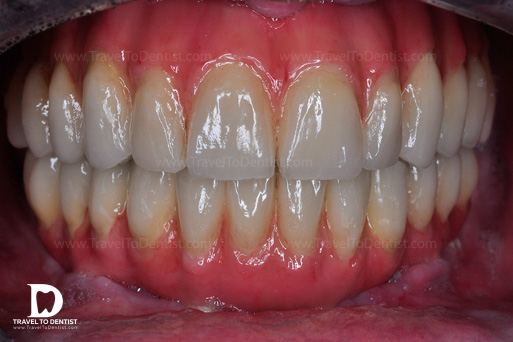 Patient: Man, 70 years
Patient complaints: All teeth missing
Number of visits to Moldova: 2
Duration of treatment, months: 7
Patient history
Mr. Lucio contacted us at the beginning of 2016 on the recommendation of another satisfied patient. All I had was a panoramic x-ray showing a large atrophy of the bone on both jaws.
At that time, in such cases, most dentists in Chisinau proposed 2 alternatives: mobile prostheses or so-called semi-fixed prostheses. Semi-fixed prostheses are supported by several dental implants, but must be removed daily to be cleaned. We proposed the same solutions.
Fortunately for the patient, the treatment was postponed for almost 2 years. During this time we introduced new techniques in our practice and we managed to convince ourselves that they "work".
Implant-prosthetic rehabilitation techniques and the temporary solution
In 2018, Mr. Lucio decided to start dental treatment in Moldova. I did a three-dimensional tomography so I could plan the treatment correctly. After a thorough analysis of 3D tomography, our surgeons proposed a solution that changed the patient's life: FIXED TREATMENT.
The upper jaw was rehabilitated with the help Toronto Bridge techniques, which involves the insertion of 4-6 dental implants, "parallel" to each other.
For the mandible (lower jaw) the only possible solution was to insert 4 implants through All-on-4 technique. All 4 dental implants are in the frontal area, of which 2 are inclined to "bypass" the lower alveolar nerve. At the same time, due to the inclination of these implants, the pressure is distributed between the implants more evenly.
After insertion, the implants were checked with Mega ISQ – a special device used to check the stability of the implants. The values indicated by it allowed us to fix the temporary teeth on the newly inserted implants. Thus, Mr. Lucio began to enjoy new FIXED teeth, although temporary, even from the first days after the intervention.
The final result
Both final bridges (upper and lower teeth) were made of metal ceramic. For fixing them on dental implants, special accessories were used – MUA (multi unit abutment). MUAs allow the tensionless screwing of long bridges on implants that have axis divergences (which are not parallel to each other). In the All-On-Four technique they are mandatory, but for better results MUAs are recommended at any bridge on implants.
The end result is a very aesthetic and natural one, and Mr. Lucio is a very responsible patient and returns periodically to Moldova for controls and professional care of the new tooth.
Do you have similar situation?
Get free expert advice and treatment estimates
+442070487233
Mobile phone, WhatsApp, Viber, Telegram: +37368187171
Patients' written reviews about dental treatment in Moldova
Patients' video testimonials about dental treatment in Moldova