Slide left and right to see the difference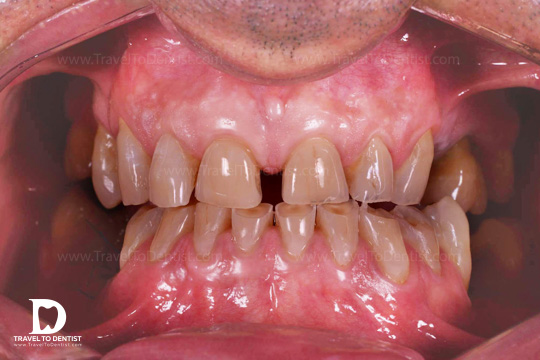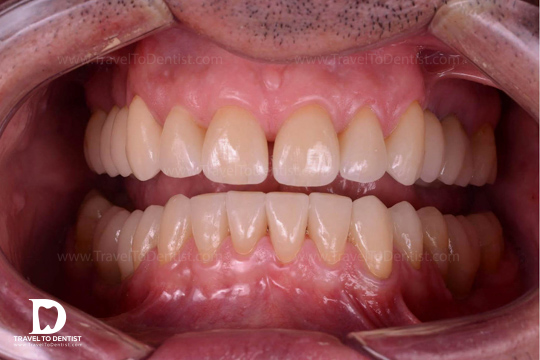 Patient: , 60 years
Patient complaints: blunt teeth, missing teeth
Number of visits to Moldova: 2
Duration of treatment, months: 7
Clinical case that appeared in magazines
Silvio is the patient who reached the pages of magazines. One of them is the magazine with the "Smile Gallery" made in our clinic. Each patient can browse it at the reception to see what work we have done, what shapes and colors of teeth other patients have chosen. Coming to the page with his teeth many say – "This is how I want them, as natural as his".
The second magazine in which this case of aesthetic and functional rehabilitation of dental abrasion appears is the prestigious Russian magazine "Эстетическая стоматология", which in translation means "Aesthetic Dentistry". See below some photos of it.
Type of treatment, duration and color of future teeth
Silvio did not have invasive work: only 4 implants were needed to replace the missing teeth. However, his big problem was his worn teeth. In order to improve the aesthetics but also to lift the bite, it was necessary to cover absolutely all the teeth. We opted for emax pressed ceramic veneers and crowns to keep his teeth alive and healthy. This type of prosthetics implies the obligatory implementation of the prototype of future teeth (wax app and mock app) in order to see the final result before starting to grind the teeth. He chose the crowns on the implants in zirconium even if they were in the lateral region for maximum precision and of course he opted for the screwing technique that allows easy access to the implants if such a need arises in the future, without cutting or restoring the crown.
For Silvio, the 21-day period spent in Moldova only for the second stage of treatment was not a problem at all, even if he had to be away from home, family and work. He understood a perfect work can only be obtained by following a strict protocol. Quickly and well becomes impossible where we talk about quality. It takes 40-50 minutes to prepare a single tooth correctly and to fix a crown or ceramic veneer about the same. If we put into consideration that it was necessary to prepare 18 teeth and the patient can not sit in the chair 24 hours of 24 – we realize duration of treatment is justified.
Silvio has completely entrusted us with the choice of color too. We did not recommend super white teeth and he understood that neither his age nor his skin color allowed him an immaculate white. We opted for a natural result and stopped at the color A3.
Amazing final result
The patient, as well as our entire team, was very pleased with the result. Subsequently, Silvio entrusted to our hands his brother-in-law, Franco, with exactly the same case to solve.
He never ceases to recommend us to his friends and colleagues, and often accompanies them to Moldova. It comes not only to support their morale but also to make the control and a professional hygiene of the teeth every 6 months.
Do you have similar situation?
Get free expert advice and treatment estimates
+442070487233
Mobile phone, WhatsApp, Viber, Telegram: +37368187171
Patients' written reviews about dental treatment in Moldova
Patients' video testimonials about dental treatment in Moldova